Personal Development as Research Managers - Module II
Background:
To become successful as ICT-professionals ESRs need profound knowledge and skills in their field and have to develop personal skills that allow them to manage scientific programs, research or working teams and themselves. The RAINBOW program gives the frame for both: profound development of knowledge and skills in the scientific field and personality development. For the later a specific training program for personal development as future leaders in the field of biomechanics simulation for personalized clinical design is offered.
Goals of the Personality Development Program:
The overall goal of the program is to develop individuals able to lead and manage highly efficiently and effectively themselves and others.
Build the basis of self-reflection and leadership competences necessary for effective leadership in a scientific environment.
Develop team leading competencies to construct a participatory team-leading approach without losing focus and clear targets.
Develop communication skills to manage and lead teams and staff.
Develop diplomatic, constructive and respectful negotiation skills to conduct negotiations efficiently and to be able to manage conflicts within and between teams.
Organisation of the program:
The following aspects describe the type and organisation of the program:
Each participant develops his own personal development project.
Combination of modular group sessions of 2 days each year with experience time in between the sessions and individual coaching sessions for each participant.
Each group includes about between eight to twelve participants of different nationalities and institutions with different backgrounds. The participants follow the modules as a group.
The sessions are organized in combination with other meetings/sessions in the frame of the RAINBOW program in spring each year.
Methodology of the sessions: theoretical input, concrete experiences and reflection.
Content of the program:
Module 2: Team development – 2 days, 12/13 May 2020
Understand the specifics of groups
Characteristics of successful teams
Group dynamic: know group phases and tasks of a leader in group development phases
Dealing with cooperation and competition in a group
Creativity in groups
Course material
Please find the material organized in folders in the Internal Forum > courses > material pmpdrm (section accessed only by project members). 
Agenda
Day 1

Day 2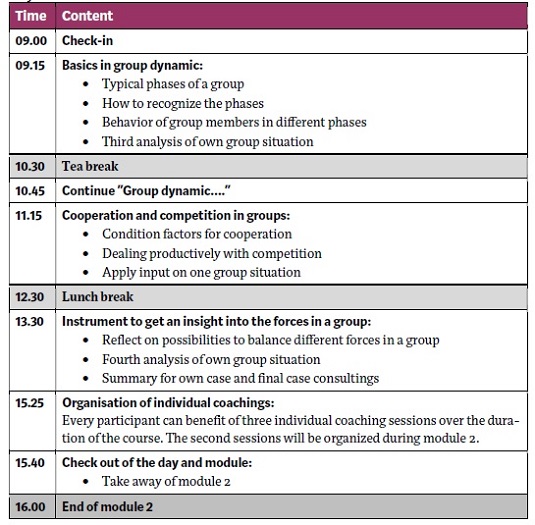 Preparatory work
During the module we will use your experiences of group or team work as case study material. You will have the opportunity to analyze your specific group situations and develop solutions for difficulties you meet as ESR. To do so please prepare:
Please choose one difficult situation of working in a group out of the rainbow program.
Describe the group and the difficult situation so that you can explain it to the others in not more than 2 minutes.
Give the situation a meaningful heading.
Please note this preparation in a Power point document (see example of the Power point to submit in Internal Forum > courses > material pmpdrm)
Precedent and future  modules:
Module 1: Kick-off and Personality, 2 days – 21/22 May 2019 - see description of module 1
Individual Coaching session 1 via Skype
Module 3: Basics of conflict management, polarity management – 2 days, 3/4 December 2020 - see description of module 3
Individual Coaching session 1 via Skype
Module 4: Communication – basics and for staff talks, closure – 15/16 March 2021 - see description of module 4
See general programme description of Personal Development as Research Managers for further information